I would like to begin with a huge "thank you" to Bob Jansen, your HOA Treasurer, for all the time and energy he has poured into the setup of our neighborhood's arrangement with Republic Services. From collecting opt-in forms and processing payments to communicating with our representative, he has given many hours to the process.
I would also like to thank neighbors for their patience through this process. Creating a single account to secure a great rate for trash & recycling service comes with some up-front work to do, but we hope this proves to be time well spent. Fewer garbage trucks means reduced risk for the kids and fewer carts on the curb each week. 🙂
Change to recycling pickup schedule
Some Republic customers have recently received in the mail a card notifying them of changes to their recycling collection day: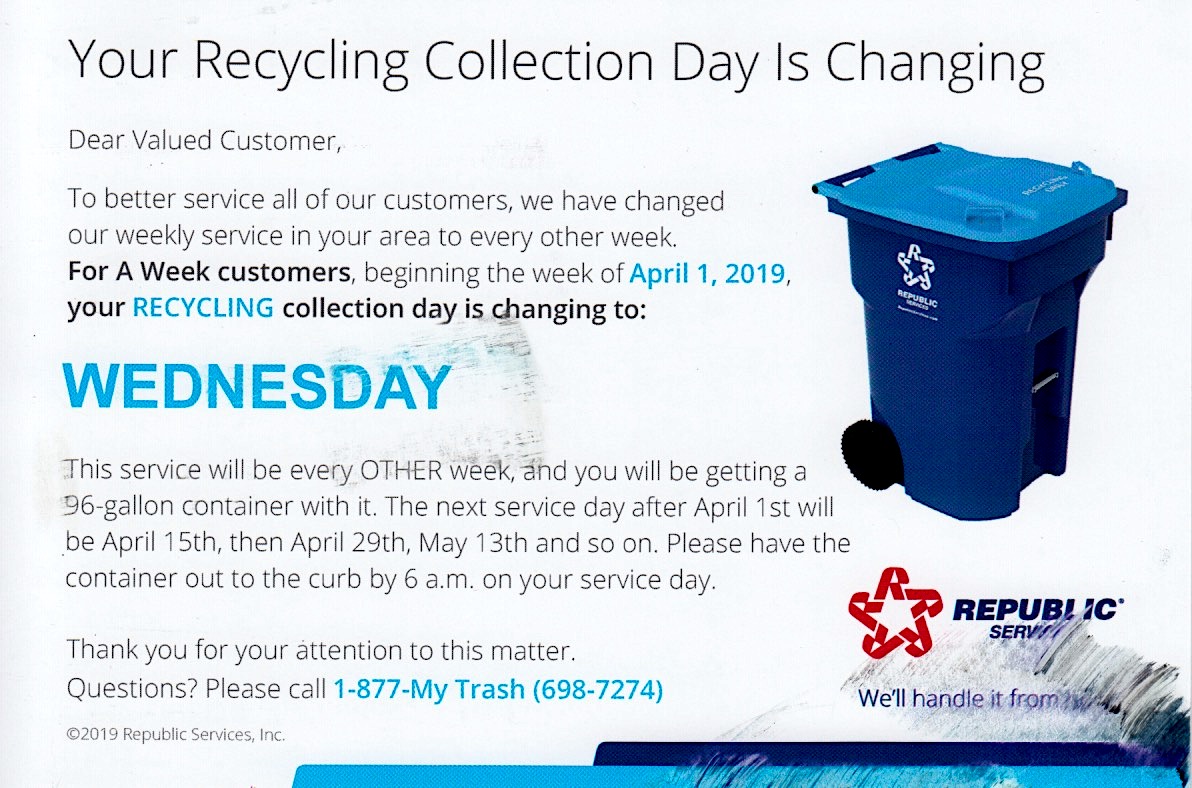 Our neighborhood is not changing the pickup day (it remains Wednesday) or container size, but customers are being updated to a bi-weekly pickup.
Starting in April, recycling will be picked up every other week instead of weekly. Republic has provided a 2019 schedule which I have added to the Neighborhood FAQ page and also below: (see page 2 for acceptable recycling materials)
"Didn't you say pickup would be each week?"
Yes, when we began the process of setting up a neighborhood account with Republic Services our representative indicated that trash & recycling would be picked up each week. This information was included in the January 2019 mailing to neighbors.
"Why didn't you warn us this would be changing?"
Honestly, we didn't know about this change. Our account representative even admitted that she didn't know this change would be coming when we were establishing the neighborhood account.
"Why is the recycling pickup schedule changing?"
We wondered this as well, so we reached out to Republic for comment. As we understand, they have decided to change the pickup schedule for a few reasons:
lessen environmental impact/pollution caused by trucks
many Republic customers did not put out recycling each week
minimize wear on roads
I assume it also helps the company keep competitive rates, as it will surely save them money to run their routes. From my own experience, a bi-weekly recycling pickup is common among other providers, so this isn't an uncommon practice.
"What if I fill my recycling cart each week? What can I do?"
If breaking down boxes isn't quite enough to make it two weeks between pickups, our representative has confirmed that an additional 96 gallon recycling cart can be provided at no extra cost. To request an additional container, please contact Brenda Kling at (616) 437-8395 in their Muskegon office, or via email at bkling@republicservices.com
"How should I prepare my recycling?"
Prepare cardboard by breaking down boxes and cut to 4′ x 4′ maximum size
Avoid placing recyclables in opaque bags. If you choose to bag recyclables they must be in clear bags.
All recycling must be placed in your recycling container(s) – drivers may discontinue picking up items outside containers (cardboard, etc.)
Transition for remaining accounts
A handful of Republic customers chose to remain on the separate arrangements they had with Republic. Those arrangements expire in 2019, with most of them expiring on either October 31 or November 30, 2019. Those customers will convert to a December 31 cycle at the expiration of their separate arrangements in late 2019 and will be billed by the LWOA (the LWOA pays Republic on your behalf) for one or two months of service to get onto the calendar year billing cycle for 2020.
Billing for 2020 will be in December 2019, payable by the end of the year, so that LWOA can pay Republic by mid January 2020.
If you are interested in joining the neighborhood plan, please contact me or a member of the Board so we can help.