Large, elderly trees. Freezing rain. High winds. Long power line runs. There are lots of factors which create a "perfect storm" (ahem…) for power outages in Lakeshore Woods, and they certainly are frequent. In the 3+ years we have lived here there have been several outages, including one particularly inconvenient outage all Christmas Eve until afternoon Christmas Day.
How frequent are outages? Should I buy a generator?
I don't remember a year where we didn't have at least one power outage, but it has typically been 2 or 3 outages per year. They have lasted less than an hour, but more often have lasted a few hours. Several neighbors have purchased generators for their homes, and it may be worth the peace-of-mind – especially if you work from home. Less expensive options for the home office include an uninterruptible power supply which can keep critical office equipment like modems/routers/WiFi running for extra time so you can wrap up important work. But if your concern is keeping a refrigerator cold, a generator may be the way to go.
How do I report an outage?
Lakeshore Woods power comes from Consumers Energy, and you can report a power outage by phone at 1-800-477-5050 or by submitting a form on their Consumers Energy Outage Center website, which also provides an Outage Map.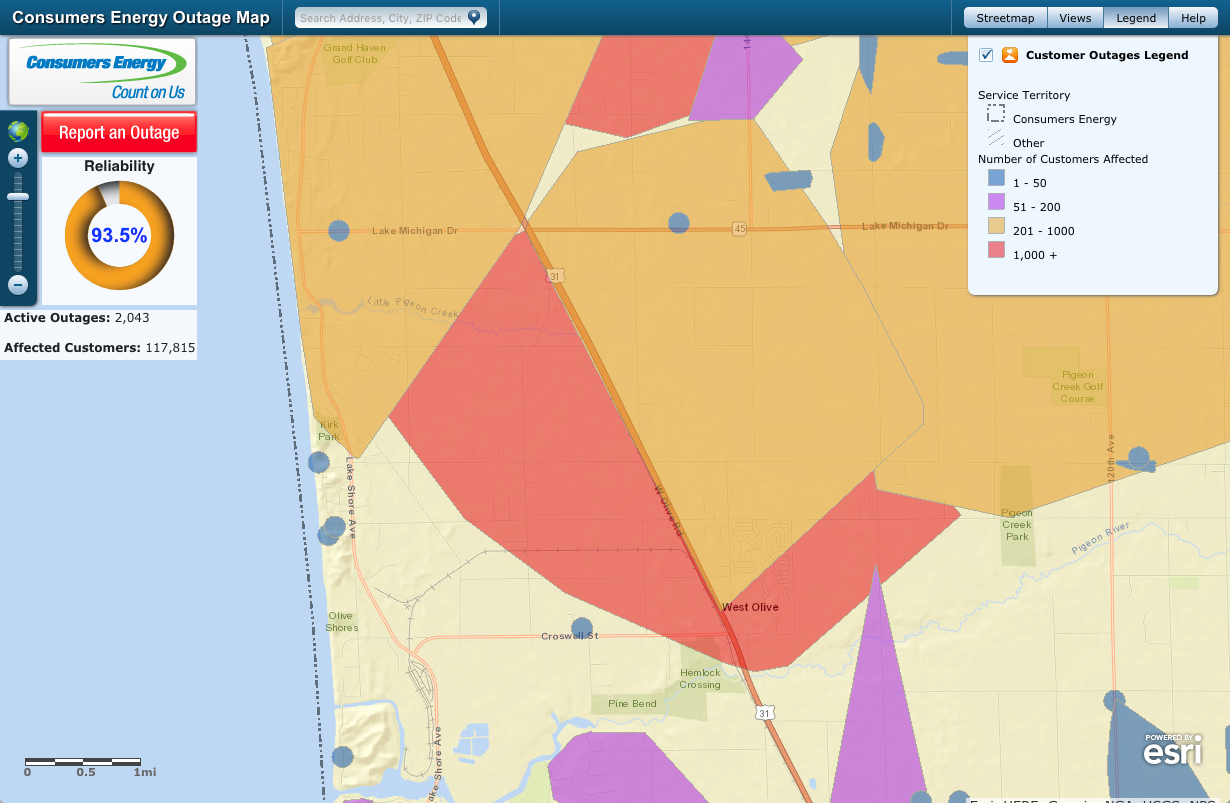 How do I get updates by email, SMS text, or phone call?
You can login to your account on the Consumers Energy website and visit the Alert Preferences page. You can add one or more email addresses or phone numbers to receive updates by email, SMS text message, or automated phone call. SMS messages come as the estimate is updated, like this example:
You can also sign up for outage alerts simply by texting REG to 232273 (CECARE) and providing your account number when prompted.
How accurate are the repair estimates?
They're only estimates. In the last few years, projections have been pretty accurate, especially for small outages affecting one area. But estimates after wide-spread storm damage typically get pushed out, since repair crews need to triage after investigation. For example, the screenshot above was received the morning of an outage affecting over 150,000 people, and as of this writing power has been out for 54 hours.
Can I get a credit on my bill?
Consumers Energy will provide a $25 credit to customers who have experienced power outages under some conditions:
Catastrophic Conditions – if the utility fails to restore service within 120 hours. (5 days)
A catastrophic condition is defined as an event that results in an official state of emergency or an event that results in an interruption of 10% or more of a utility's customers. Customers need to notify their electric utilities of the outage.
Normal Conditions – if the utility fails to restore service within 16 hours after an outage resulting from conditions other than catastrophic conditions. Customers need to notify their electric utility of the outage.
Frequent Repetitive Interruptions – if experiencing more than 7 interruptions in a 12-month period. Customers need to notify their electric utility of all service outages.
See the michigan.gov/energy website for details, or download the PDF.
To submit a request for a credit, fill out your information at the Electric Outage Credit website page.
Power outages happen and they're really inconvenient. But if you need any help during a power outage, don't be shy – ask your fellow neighbors if there's anything you need!